Visual Facilitation Basics
bikablo® training for beginners
Meetings should be as short as possible while delivering great outcome. Drawing together is the best way to communicate efficiently and should be part of any great company culture. Do you facilitate meetings? A great drawing technique will enable you to facilitate your next meeting with inspiring drawings.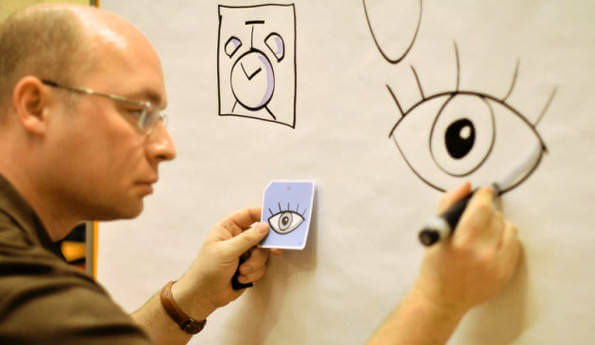 How does it work?
bikablo® is an easy to learn visual facilitation technique that helps you to facilitate meetings and workshops. You don't need any drawing skills and after the training you will be ready to rock and draw your own awesome flip charts and facilitate meetings!
Learn the bikablo® technique!
Over the last 10 years hundreds of key visuals, figures and templates where created and turned into three visual dictionaries as well as into a step-by-step training program.

bikablo® Visual Facilitation – The world of visual language
In this fundamentals training you'll be guided step by step into the the world of visual facilitation. You will warm up your drawing skills before we move on deeper into more enhanced techniques.
Fundamentals Day (1st day)
On the first day you will learn the bikablo® drawing technique and by the end of the day you will be able to present your ideas visually. This includes the following learning objectives:
How to…
Write fast and readable
Draw figures
Combine figures and graphics
Use colours effectively
Layout a flip chart page
Prepare a visual meeting
After these fundamentals you will work with templates and create your final flip chart to take back to work.
Practitioner Day (2nd day)
After learning the basics we focus on the second day on how to apply the new learning at work. We will learn the following:
How…
to apply my drawing skills at work
to facilitate groups & agile teams visually
to capture conversations live (graphic recording)
do I get others involved in drawing together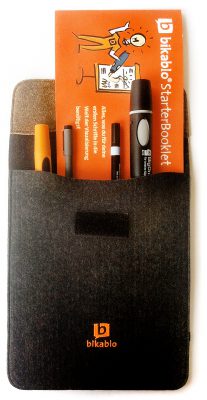 Benefits:
StarterSet (left): Every participant will get an exclusive StarterSet with 4 visualisation markers from Neuland and the StarterBooklet that summarises the principles and techniques on 32 pages.
10 awesome flip chart templates for your next meeting or workshop
More than 200 icons, figures and other key visuals
Shorter meetings through visual collaboration
Photo protocol of the whole course
15% Discount on advanced trainings
Membership of the bikablo® graduates LinkedIn Group
Our partner Neuland offers a discount on their product range to all participants
Who is it for?
Are you working in an area where communication and collaboration between people is essential? Maybe you work in one of these roles…
Manager & Leader
Project Manager, Agile Coach, Scrum Master or Iteration Manager
Trainer, Coach or Facilitator
User Experience Expert, Business Analyst
Product Owners / Product Managers
Agile Team Leader, Delivery Lead
Knowledge worker like Software Developers or Science
…then this training is especially for you!

Upcoming Basics Trainings in Australia
WHAT PEOPLE SAY…

Nathalie Heynderickx
Corporate Domain Specialist at AGL
I've attended a one day workshop with Marcel a couple of months ago and I'm glad I did. In one single day I've learnt the basic techniques of visual facilitation in a clever, relaxed and fun manner thanks to Marcel great people and technical skills. Since then I had to pleasure to apply the knowledge acquired at my role at AGL and make my role more fun, creativity and engaging to myself and my stakeholders. Such a good investment of my time, energy and money! Thanks Marcel. Please keep up sharing this amazing tool for a better corporate world.

Christiane Anderson
Senior Business Analyst at AGL Energy
Marcel is an excellent, generous and talented @Bikablo trainer and facilitator. I had the pleasure of attending his course and was able to add value at work straight away by using it in retrospectives, team purpose facilitation, inception workshops and initiative launches. I can highly recommend Marcel's rich knowledge and experience in this field and his ability to teach and mentor others to become excellent Visual Facilitators.

Marie-Claire Reina (CAHRI)
Leadership Development Facilitator
Marcel's bikablo® visual facilitation training brings your drawing skills to life - yes, yours!!! You may walk in to the program feeling like an absolute novice (I can barely draw a straight line with a ruler!) but I promise you will walk out with the skills to put your thoughts on paper in the clearest, funkiest, most visually attractive way!Well worth the investment, you will receive several practical tips and tricks that will significantly boost your facilitator toolkit. With his extraordinary facilitation skills Marcel will include you in the program and guide you to greatness as if you were the only person in the room - cannot recommend this program or Marcel highly enough - thank you! thank you! THANK YOU!!

Sharada Bangalore
REA Group
Recently I attended the two day Bikablo Visual Facilitation training - for someone like me who previously drew very little, this training was a godsend! Not only did it uplift my confidence in drawing, the training also gave me various tools and techniques that I could easily practise and use in my facilitation sessions. There were also several reference books suggested for further enrichment of drawing and visual facilitation skills. The pace of the course over the two days was even and the facilitators certainly made it interesting with some fun group activities. Overall, I would highly recommend this training course for anyone that is involved with facilitation – be it as a facilitator or as a participant.

Matt Rickards
Agile Business Analyst / Iteration Manager at Elabor8
Marcel's Bikablo Visual Facilitation course was a great experience! The techniques he uses are amazing because they enable anyone to draw eye catching pictures without being able to actually draw previously. Marcel was a great teacher, with attention to detail and a passion for art excellence. Highly recommend this course to any Facilitator,

Amanda Cassidy
Business Analyst at Commonwealth Bank
I attended Marcel's Bikablo training course in November 2014. It was fantastic and the results are really rewarding. Marcel makes the course fun, interactive and hands on. By the end of the training day i was totally able to sketch the Bikablo way :). I would definitely recommend Marcel's Bikablo training course.

Fleur Vickers
Digital Manager at FrontLine Stores
In just over a minute, our new video clearly communicates a business model many of us have struggled to explain for years! Marcel was fun to work with, and helpful in turning our receptionist into our voice over girl. So much so that she may consider leaving us for a new career. Good one Marcel.

Kate Goodwin
User Experience Specialist, HeathWallace, Melbourne
Marcel really opened our eyes up to what is possible with visual recording. We learned how important it was to have a clear brief on what the sessions would involve and what we wanted captured. Marcel was then able to recommend the best way forward for our needs. Marcel's skill in interpreting and visualising everything during the workshop sessions was impressive, and the resulting wall piece was everything we'd hoped for (particularly to keep discussions going long after the workshops had ended, plus standing alone as a form of 'analysis' that we couldn't possibly have captured ourselves while facilitating the sessions). I'd highly recommend Marcel's work. Kate Goodwin, User Experience Specialist, HeathWallace, Melbourne

Noppanit Charassinvichai
Senior Consultant at ThoughtWorks
I have been fortunate to work with Marcel for the past 4 months when he was a Scrum Master. I found Marcel to be very competent, creative and self-driven. He did a fantastic job managing the team, building and developing the team relationship. Marcel brought a lot of ideas to our team to motivate the team and make the team stronger. He is a very good team-worker and has a great sense of humour. He has a really unique way of thinking by visualising thoughts which makes it really easy for the team to understand. I am happy that I have the privilege of working with Marcel and I will be very happy to work with him again in the future.

Mirjam Stamm
CEO of Copra System GmbH
My name is Mirjam Stamm. I am the CEO of Copra System GmbH based in Berlin and Sasbachwalden. Copra System GmbH develops documentation software for the anesthesia and intensive care area of hospitals. In August 2010 we contacted it-agile GmbH and got in contact with Marcel van Hove. From September 2010 until end of December 2011 Marcel worked as a Scrum consultant at Copra System GmbH. In the beginning Marcel van Hove trained our developer teams and consultants in Scrum. He trained a new employee to become the Scrum Master of the teams and coached the Product Owner on his new job. Later he introduced Kanban in the system administration and in customer project management. Marcel van Hove moderated company wide Open Spaces to improve the whole company. He facilitated one Open Space by creating a big drawing (2x3 meters) of the session results during the day. This drawing serves us as a reminder for continuous improvement. Marcel van Hove is an experienced Scrum and Kanban Consultant with a great positive and energetic habit. He can motivate teams even in difficult situations. I can highly recommend him as an agile consultant.

Jenny Nedanovski
Content Strategist at MYOB
Marcel has a strong focus on delivering great quality of work. I must say, it's been a pleasure working with Marcel on a project to deliver an MYOB animated video, where our top of mind was to engage my audience and help them understand why our product could benefit them. With Marcel's expertise and easy going work ethic, it's amazing how fast he can deliver flawless work. I didn't even need a revision, great work and I look forward to working with Marcel in the near future.

Govert Mellink
Director at PwC
In spring 2014 I attended Marcel's bikablo® visual facilitation training. The training is a very well spent day of practical tips and tricks that has significantly added to my toolkit for facilitating client sessions. Basic skills if taught well can be perceived as advanced skills to audiences.