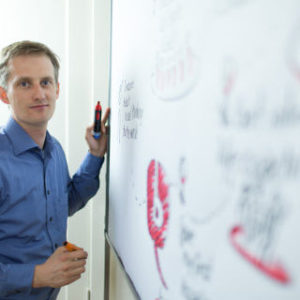 Marcel Van Hove
Marcel combines agile team coaching with visual thinking. Marcel believes that a group of people drawing together on a whiteboard can change the world. He loves high-performing teams and therefore coaches teams everyday. He likes to share his experience in his trainings, as a speaker at conferences and as the host of a user group. He produced several videos explaining agile practices, principles and lean thinking using visual facilitation techniques. When he is not drawing he loves to meditate and travels around the world.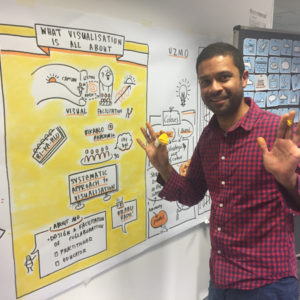 John Hibble
John is a practitioner and educator in design & facilitation and in visualisation. He has designed and facilitated collaborative workshops in both public and private sector in fields as diverse as Banking, Universities, Insurance, Property, Transportation, Environment and Health & Community Services.
He partners with consulting firms, wheretofromhere? and Collabforge and now with Visual Friends. He co-founded The Facilitation Starter, a learning program to make facilitation skills more accessible to people who are relatively new to facilitation. John is a co-author of 'Collaboration by Design', a new practitioner's field guide on design and facilitation.
John lives in Melbourne with his partner, Natalia, and their two daughters.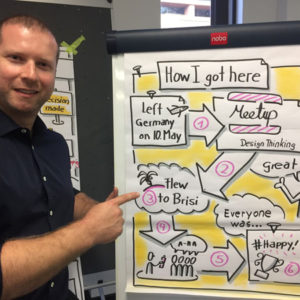 Martin Ruckert
Live Illustration, Whiteboard Scribing, Graphic Recording. Posters, Markers. Let's simplify complexity, in an authentic and engaging way.
Martin is an Associate Visual Facilitation Trainer with the bikablo® akademie and an Agile Coaching Consultant. His career spans financial services and digital media. He is driven by the significant outcomes achieved when visuals are used to simplify complexity and improve effectiveness of communication.
Martin has held leadership positions in organisations for 10 years, with over 7 years experience in agile delivery. To share his experience, Martin has joined VisualFriends with a focus on visual training, graphic recording & visual consulting.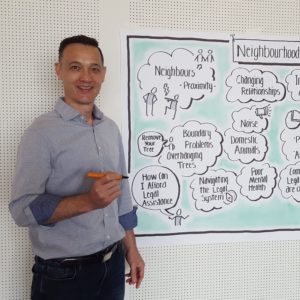 Danny Low
Danny
is Certified Professional Scrum Master, Agile Team Facilitator and Visual Facilitation Trainer who is a strong believer in using visual language to capture and convey meaning.  He uses Bikablo as a powerful way to engage Team Members and Stakeholders in his work.
Danny enjoys Snow Skiing, Mountain Biking and Travelling.  In his spare time he instructs in Kung Fu / Tai Chi and coaches Junior Rugby Union Teams.
He lives with his family in Brisbane, Australia.